Design & Cost Advantages of EPS (Expanded Polystyrene) Rigid Insulation
While these advantages seem straight forward, there are allot of detail to add to each element. Read on as we dive in to outline more of the benefits of EPS Rigid Insulation. 
Low Cost:
When comparing other rigid insulations, EPS is hands down the lowest cost per-dollar. Another way to look at this is that Expanded Polystyrene offers the highest R-Value per dollar over other types of rigid insulation. We can put this in concrete terms with two different case studies. The first is a comparison of two different EPS products vs an Isocyanurate product. The second is an EPS overboard vs another type of rigid insulation.
There are also inherent labor savings with many EPS composite, laminated, and hybrid rigid insulation products. For example, laminated and double sided facers on R-Tech products combines multiple products into one.  Factory laminated skins can include OSB, Plywood, or cement. This factory production can eliminate an extra step or layer in the field. The ability to install insulation and other system assembly components in one step, can significantly reduce installation costs.
Versatile: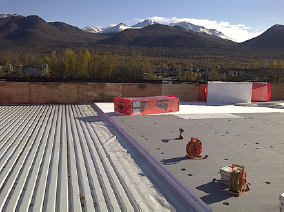 One of the only insulations that can be used for roofs, walls, below grade, AND structural geofoam, EPS offers the benefit of sourcing one type of insulation for any application. EPS makes life easy for contractors, engineers and designers.
Because EPS Rigid Insulation offers a large range of dimensional stability, compressive strength and water resistance properties it can be used in a huge variety of construction applications.
Customizable:
Insulfoam can be fully customized to best meet project needs, often with little to no affect on lead times. Available in blocks up to 40″ thick and 24 ft. long, with compressive strengths up to 60 psi, and the broadest range of nominal densities, Insulfoam EPS can be customized to whatever your project specifies.
Insulfoam EPS can be manufactured with a plethora of facers, as standard faced R-Tech, or laminated to just about any skin desired (plywood, OSB, cement board, etc.). While the range of options is truly endless, To eliminate some of the work, Insulfoam has standard premium products for architects, engineers and contractors to take advantage of – including:
All of the above are customizable in thickness, density and compressive strengths to produce the perfect rigid insulation product for any job. Insulfoam EPS rigid insulation is also offers 100% warranted thermal R-Values for 20 years and beyond – something you won't see with other rigid insulations.
Thickness:
A
s stated above, Insulfoam blocks can be manufactured up to 40″ thick. Allowing contractors to install one layer of insulation, where other rigid insulation products (ISO, XPS) would require many layers. The time savings from this advantage are significant. The thickness can also be factory tapered, for roofs, ramps, roads, foundations, plaza decks and more. The 40″ maximum thickness enables Insulfoam production to taper any slope from 0 (1/8" actual) to 40″ without limitations on slope per foot (unlike other rigid products).
These design advantages are just one of many reasons why Insulfoam Rigid Insulation is the go to product for architects, engineers, and contractors throughout North America. What to find out how to incorporate Insulfoam EPS rigid insulation into your practices? Contact an Insulfoam Rep in your area today!