R-TECH® Rigid Foam Insulation
Insulfoam's ENERGY STAR® certified R-TECH lightweight rigid insulation panel is a versatile do-it-all home insulation for the complete building envelope. Gone are the days of fiberglass splinters, heavy insulation products that are hard to cut, and blown in pieces that take a lot of material for adequate coverage. Builders and homeowners can quickly and economically increases a home's insulating power with these large lightweight panels that can be cut simply and easily to fit virtually any space, are insect-resistant, and backed by a 20-year thermal warranty.

R-Tech has been used successfully for numerous commercial, industrial and residential roofing, wall and below-grade applications. Panels are available in a wide range of sizes, thicknesses and compressive strengths up to 60 psi.

R-Tech FF (Fanfold) is a high-performance sheathing consisting of a superior closed-cell, lightweight and resilient expanded polystyrene (EPS) with advanced polymeric laminate facers. R-Tech FF meets or exceeds the requirements of ASTM C578, Standard Specification for Rigid, Cellular Polystyrene Thermal Insulation. In addition, R-Tech FF has excellent dimensional stability, compressive strength and water resistant properties.
Advantages
Environmentally Friendly. Does not contain any dyes, 100% recyclable foam.
Water Resistance. Facers provide a surface that is virtually impervious to moisture.
Durable. With a polymeric facer on either side of it, R-Tech is extremely flexible and durable.
Enhanced R-values. With no thermal drift over its entire service life, the product is eligible for an Insulfoam 20-Year Thermal Performance Warranty
Cost Effective. Typically less expensive than other comparable insulation products.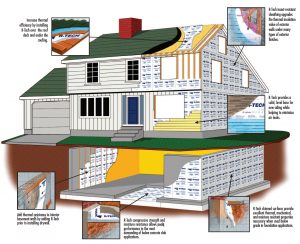 Applications
R-TECH is a top-to-bottom, do-it-all insulation. This versatile rigid foam board can be used for new and retrofit roofing, exterior, interior & cavity walls, siding underlayment, insulating sheathing, continuous insulation sheathing, weatherproofing protection barrier, below grade, under slab, crawl space, perimeter insulation, drainage board and radiant heated floors.

This rigid foam is also easy-to-use for DIY insulation projects. Whether you are insulating your basement, attic, or garage door, R-TECH is an easy way to increase your homes energy efficiency.

Available from home improvement stores nation-wide, R-TECH comes in various thicknesses, panel sizes and fanfold options without loose insulation all over, or pesky and painful fiberglass slivers to avoid.