What is Expanded Polystyrene? Understanding the Basics of EPS Foam
What is Expanded Polystyrene? Understanding the Basics of EPS Foam
Expanded polystyrene (EPS) can keep your home warm, your fish cold and your bridges supported. But what exactly is this foam and why does it matter?
EPS starts its life as dense beads of polystyrene. In its unexpanded form, polystyrene is one of the most versatile materials on the planet. From DVD cases to roadways and roofing materials, this dynamic plastic has become an integral part of our daily lives since its discovery in 1839. In its concentrated form, polystyrene is a plastic resin that is as strong as aluminum but less dense and more flexible. But when it is heated using steam, a slight change to the structure of the plastic happens to get the true magic.
By adding steam, manufacturers can "expand" polystyrene beads and create a product that is 98% air, has very low thermal conductivity, and is resistant to natural break down. Once polystyrene is expanded, a new world of uses expands with it. As EPS foam, the end-product can be used as insulation, protective packaging and even structural support for bridges and docks. It's that flexibility that has given EPS a place in your home, under the roads and protecting your packaged goods.
EPS for the Building Industry Pro
EPS has been in commercial use since the 1930s. The discovery of EPS, which is 30 times lighter than in-expanded polystyrene, gave rise to a host of new uses, including multiple uses in the building industry. It is now used primarily as insulation but also as a way to provide structural filler for above and below-grade scenarios as an alternative to soil.
EPS as an insulation is high strength, high R-value per dollar rigid foam. It is inert, which means it doesn't react with other chemicals and it releases water below-grade at a faster rate than other insulating materials.
Commercial roofing is one application where EPS shines. EPS insulation solutions afford considerable time and labor savings over alternative building techniques. We estimate that using R-Tech Fanfold Roof Insulation, installers can realize between a 40.25% and 53.7% per square foot in savings. This can result in up to $34,000 savings per 1,000sf. What's more, EPS insulation such as R-Tech meets or exceeds the compressive strength, flexural strength and dimensional stability requirements of ASTM C578, Standard Specification for Rigid, Cellular Polystyrene Thermal Insulation.
When structural fill scenarios are at hand, EPS is just as beneficial. Insulfoam Geofoam (GF) offers engineered stability, and time-saving installation compared to soil staging and backfill. This EPS product also resists insects, mold, decomposition and severe weather conditions, including freeze-thaw cycles and moisture.
Just recently, the Colorado DOT brought in 6,137 eight-foot blocks, or 24,245 cubic yards, to speed up the repair of a massive sinkhole on a major highway. In just 20 days, Insulfoam delivered the material to keep the project on schedule and ahead of the changing seasons.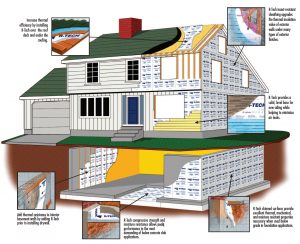 Rigid Insulation for the DIYer
Whether you're looking to build or renovate a new garage, insulate your attic or make your basement more energy efficient, EPS insulation is the best choice for your project. Insulfoam's line of insulation products are suitable for nearly any environment. EPS can withstand temperature swings, resist moisture below-grade, and, with the proper treatment, termites and carpenter ants.
The ease in which EPS products can be installed makes it possible for any level of DIYer to dramatically upgrade their home's insulation. EPS insulation – such as Insulfoam's R-Tech – can be cut with common household tools such as a razor knife or reciprocating saw. Numerous pre-made sizes make it easy to find the best fit for your needs. Pre-configured kits are also available to insulate your garage door and add extra insulation to a major source of heat loss.
One of the major benefits of Insulfoam EPS is a lifetime R-value warranty. This gives homeowners the peace of mind knowing that their investment is going to stand the test of time, removing one worry from the long list of home ownership concerns.
Whether you're building a 100,000 square foot warehouse, filling in the void from a sinkhole or simply want to shore up a draft in your garage, EPS is a versatile solution for it all. Contact us to help find the best fit for your needs now.