Energy Efficient Do-It-All Insulation for Residential Applications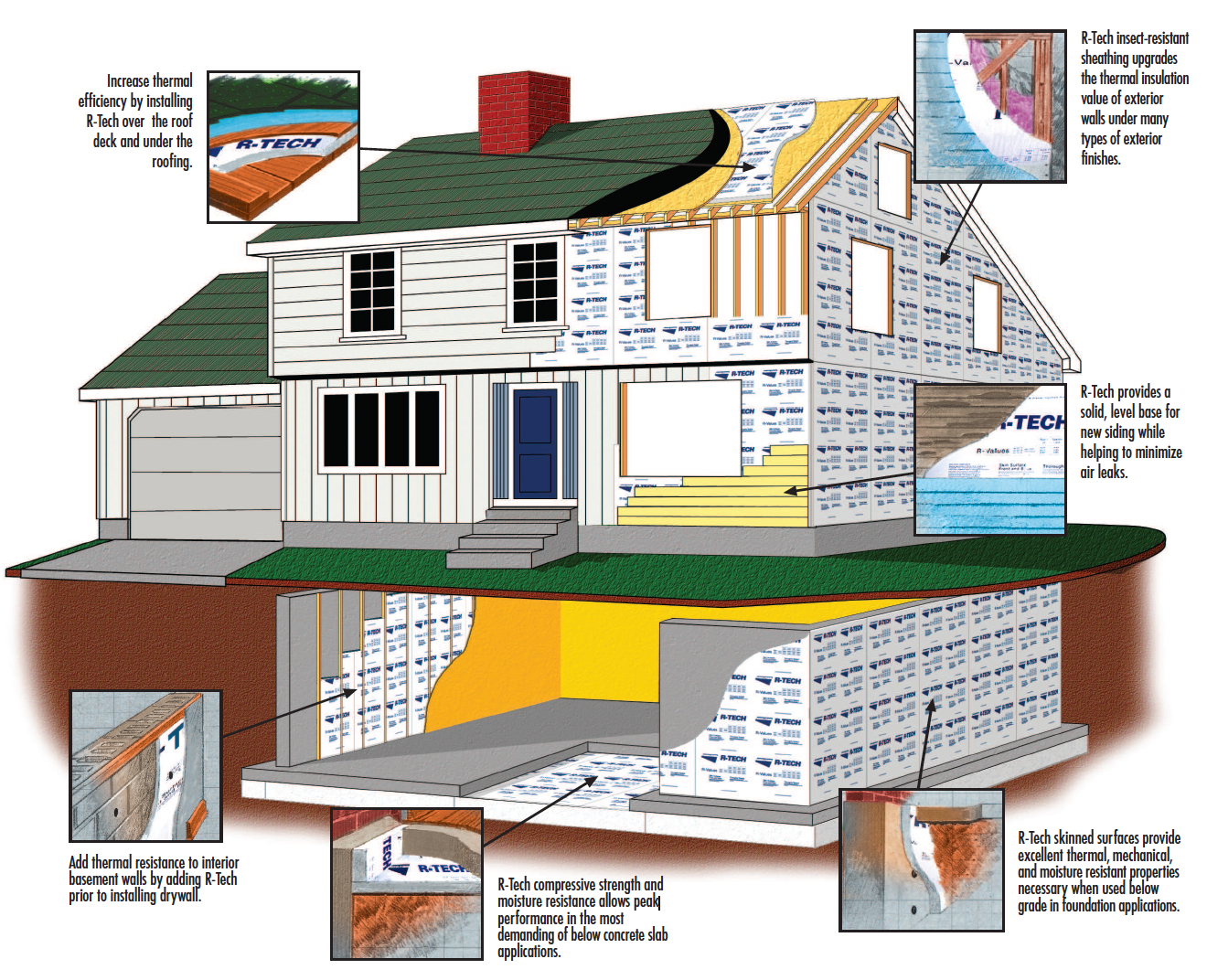 There are endless products out there today to help increase energy efficiency in residential applications.  However, insulation remains one of the most critical components and fastest ways to reach this goal, and save on heating and cooling costs.   Not to mention making an impact on how much we use (and waste) valuable energy resources.  A home should be properly insulated from the roof all the way to its foundation to reduce the excessive heat gain during the summer and heat loss in the winter.  Cooling and heating systems should not be working overtime to make up for inadequate insulation.
Insulfoam's ENERGY STAR® certified R-Tech lightweight rigid insulation panel is a versatile do-it-all insulation for the total building envelope.  Gone are the days of fiberglass splinters, heavy insulation products that are hard to cut, and blown in pieces that take a lot of material for adequate coverage.  Builders can quickly and economically increases a home's insulating power with these large lightweight panels that can be cut simply and easily to fit virtually any space, are insect-resistant, and backed by a 20-year thermal warranty.
R-Tech insulation panels come in multiple sizes, has excellent dimensional stability, compressive strength and water resistance properties.  R-Tech is an ENERGY STAR® qualified insulation and can contribute towards LEED® credits.
R-TECH INSULATION CAN BE USED FOR:
New and retrofit roofing
Exterior, interior & cavity walls, siding underlayment, insulating sheathing, continuous insulation sheathing, weatherproofing protection barrier
Below grade, under slab, crawl space, perimeter insulation, drainage board, and radiant heated floors
R-TECH INSULATION TIPS:
Increase thermal efficiency by installing R-Tech over the roof deck and under the roofing.
R-Tech insect-resistant sheathing upgrades the thermal insulation value of exterior walls under many types of exterior finishes.
R-Tech provides a solid, level base for new siding while helping to minimize air leaks.
Add thermal resistance to interior basement walls by adding R-Tech prior to installing drywall
R-Tech compressive strength and moisture resistance allows peak performance in the most demanding of below concrete slab applications
R-Tech skinned surfaces provide excellent thermal, mechanical, and moisture resistant properties necessary when used below grade in foundation applications
Available from home improvement stores nation-wide, R-Tech comes in various thicknesses, panel sizes and fanfold options (picture unfolding 100 squares insulation in under 5 minutes!) without loose insulation all over, or pesky and painful fiberglass slivers to avoid.
HOME INSULATING TIPS FOR WALLS AND BASEMENTS
What prep do I need to do for my walls and basement before installing lightweight R-Tech insulation panels?
Before insulating, seal any air leaks and make other necessary repairs.  If you are insulating in an area that is located in a conditioned part of the house, also remember to insulate and air seal your basement, wall or attic access.
Next plan and make sure you're covering all the right areas.  Insulate and air seal any knee walls – vertical walls with attic space directly behind them – in your home as well.  In addition, if you're building a new home or remodeling, make sure any area that provides additional storage space or a platform for a heating and/or cooling unit or hot water tank has enough room around them for adequate insulation.  Finally, if you live in a hot or warm climate, consider installing a radiant barrier in your attic to reduce summer heat gain.
R-Tech panels easily fold over the top of panel joists without the need to fill in gaps and low spots.
What is the best choice for insulating exterior walls?
WATCH: R-TECH INSTALLATION ON EXTERIOR WALLS

Consider using insulating wall sheathing rather than wood sheathing products.  These products include foam insulation laminated to a facer or another sheathing product, providing an R-Value of R-2 to R-3.5.  With products like R-Tech you can choose thicker foam boards which yields even higher R-Values.
Foam sheathing advantages:
Provides a continuous layer of insulation, which reduces thermal bridging through wood studs (energy escaping through the wood studs), saving energy and improving comfort.
Is easier to cut and install than heavier or blown in products.
Protects against condensation on the inside wall by keeping the interior of the wall warmer.
Usually costs less than plywood or oriented strand board (OSB).
Basement Insulation Done Right
WATCH: R-TECH INSTALLATION IN A BASEMENT APPLICATION

A properly insulated basement can save you money on heating and provide a dry, comfortable living space.  In most cases, a basement with insulation installed on its exterior walls should be considered a conditioned space.  Even in a house with an unconditioned basement, the basement is more connected to other living spaces than to the outside, which makes basement wall insulation preferable to ceiling insulation.  In fact, up to 25% heat loss occurs through the basements of a home.
In new construction, adding insulation on the exterior of the basement walls will:
Minimize thermal bridging and reduce heat loos through the foundation.
Protect the damp-proof coating from damage during backfilling.
Provide some protection against moisture intrusion.
Make the foundation part of the thermal mass of the conditioned space, thereby reducing interior temperature swings.
Reduce the potential for condensation on surfaces in the basement.
Conserve room area, relative to installing insulation on the interior.
In an existing home, adding insulation to the exterior of the basement walls is impractical.  Interior basement wall insulation has the following advantages:
It is much less expensive to install than exterior insulation for existing buildings.
Almost any insulation type can be used, some easier and safer to install than others.
It eliminates the threat of insect infestation.
What else should I consider when installing interior basement wall insulation?
Many insulation types require a fire-rate covering because they release toxic gases when ignited.  Be sure you're choosing one that complies.
Interior insulation reduces usable interior space by a few inches.  The thinner the product the better.
It doesn't protect the damp-proof coating like exterior insulation does, so choosing inflation with a protective facer is a good choice.
If perimeter drainage is poor, the insulation may become saturated by moisture weeping through foundation walls, be sure to choice an insulation that doesn't retain moisture.
WATCH: R-TECH INSTALLATION IN A BASEMENT APPLICATION (AGAINST FOUNDATION)

How much insulation should I add?
Insulation levels are specified by R-Value.  R-Value is a measure of insulation's ability to resist air )hot or cold air) flow.  The higher the R-Value, the better the thermal performance of the insulation.  R-Tech offers a huge range of sizes and thicknesses to meet the insulation needs your project requires.  All with fast and easy insulation.  To determine appropriate R-Values for basement walls in your area, use these R-Value recommendations.
HOME INSULATING TIPS FOR ATTICS
WATCH: R-TECH INSTALLATION IN AN ATTIC APPLICATION

How do I know if I need more insulation in my attic?
No matter war kind of insulation you currently have in your attic, one quick way to determine if you need more is to look across the span of your attic.  If your insulation is just level with or below you floor joists (i.e., you can easily see your joists), you should add more.  If you cannot see any of the floor joists because the insulation is well above them, you probably have enough and adding more may not be cost-effective.  It is important that the insulation be evenly distributed with no low spots; something there is enough insulation in the middle of the attic and very little along the eaves.  If your attic insulation covers your joists and is distributed evenly, you probably have enough.
R-Tech panels easily fold over the top of panel joists without the need to fill in gaps and low spots.
How Much Should I Add?
Insulation levels are specified by R-Value.  R-Value is a measure of insulation's ability to resist heat flow.  The higher the R-Value, the better the thermal performance of the insulation.  The recommended level for most attics is to insulate to R-38.  A layer of R-Tech is a fantastic way to beef up attic insulation with fast and easy installation.  Lay directly over trusses, planks, or subfloor and these large panels can fold out (fanfold) or be joined together with very few gaps for heat/cooling to escape through.
Note the EPA recommends air sealing the attic before adding attic insulation.

DON'T LET ENERGY ESCAPE THROUH YOUR GARAGE
The largest uninsulated space in most homes is the garage door.  Insulfoam's Garage Door Insulation Kit provides an easy solution for increasing the energy efficiency of your home and reducing interior noise.  The kit is environmentally friendly and features a foam core that is 100% recyclable.  Insulfoam's Garage Door Insulation Kit is available at your local Lowe's and Home Depot home improvement stores.
Saves energy by reducing heating and cooling costs
Reduces interior noise
Clean, professional finished product
Energy-efficient upgrades may be eligible for federal tax credits
Simple, easy installation in less than one hour.
View this DIY installation video to see how easy it is to cut and install